Kent 11-plus overhaul 'to tackle coaching culture'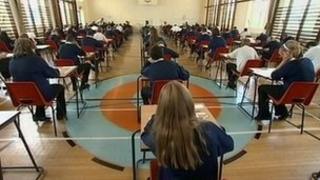 Plans to overhaul the Kent 11-plus test and make it more difficult for wealthier families to coach their children are being considered.
A Kent County Council (KCC) report said head teachers' concerns about a strong coaching culture had been revealed in a survey.
Calls had been made for a test that was as uncoachable as possible, it said.
Councillor Mike Whiting, cabinet education spokesman, said the authority was looking for "social mobility".
He said: "What we don't want to do is be in a situation where just because, for example, you have some better means than others, you stand a better chance of getting into a Kent grammar school.
"We're looking for social mobility here.
"We want more children from all walks of life to get into our grammar schools and there are bright children in all walks of life that deserve a crack at that."
'Level playing field'
The report said head teachers and council officials also wanted to see a stronger literacy element and a test that would avoid commercial exploitation, such as the marketing of practice materials to parents.
The current test includes verbal and non-verbal reasoning, which are not taught in primary schools and need coaching but the new test may drop that element and place the emphasis on English and Maths, which are taught in classrooms, BBC South East Today's political correspondent John Young explained.
Proposals to be considered by the education committee on Tuesday said the new test would be brought in from September 2014 under a new procurement process.
Suggestions also include fewer practice tests, one day of tests instead of two, and two tests instead of three.
One Tunbridge Wells head teacher, Robin Dungate, from St Mark's School, said: "I would welcome and support any changes that will make it more of a level playing field and thereby improve equal opportunities."