Deal in Kent gets new coat of arms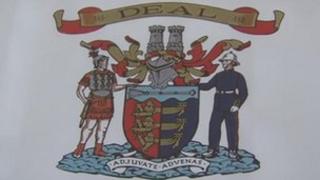 A town that was told that it was unlawful to continue using its previous coat of arms has found a new emblem.
Deal Town Council and Deal Town FC, in Kent, were told their emblem was invalid because it was the old coat of arms of the Borough of Deal, which no longer exists.
Deal mayor Marlene Burnham said last month that it was "heraldry gone mad".
The council has now agreed to use the emblem of the Confederation of the Cinque Ports, of which it is a member.
The Cinque Ports are towns in Kent and Sussex given royal status in the 13th Century for defending the English coastline.
The coat of arms will be adapted with the town's motto for civic and ceremonial use, the town council spokeswoman said.
She said the designs would be considered at a meeting of the full council later.