Sevenoaks grammar school annexe moves forward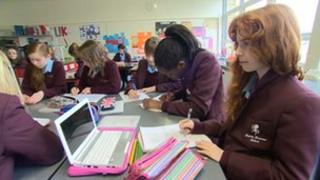 The school chosen to run a planned new grammar school annexe has been named by Kent County Council (KCC).
Invicta Grammar School in Maidstone would run the annexe in Sevenoaks as a satellite in the proposed plan being sent to the government.
KCC now needs to obtain government approval for the proposals.
Last week, the government said it wanted a free school on the site. But Invicta has said the grammar annexe and free school could share the site.
The Department for Education said it has not yet received the proposal, but believes "good schools should be able to expand".
KCC leader Paul Carter said: "Thousands of people told us that they wanted us to explore the provision of grammar school education in the Sevenoaks area.
"This partnership shows KCC's commitment to reflecting those views."
'Shared site possible'
Councillor Mike Whiting, cabinet member for education, said he would be sending the government a joint proposal from KCC and Valley Invicta Academies Trust (VIAT) for grammar provision in Sevenoaks by Monday.
KCC said both VIAT-run Invicta and Valley Park had been recognised by Ofsted as "outstanding".
Last week, the future of the satellite grammar school appeared to be in doubt after the Department for Education told KCC the site in Seal Hollow Road was "ideally suited" for the Trinity Free School.
But Dr Philip Limber, VIAT chief executive, said: "If we had to work together on the same site, we would not see that as detrimental."
He said the decision would be made by central government and KCC, but he added: "I can't believe that a site issue can stop good schools being developed, whether they are selective schools, grammar school annexes, non-selective schools, free schools or whatever.
"If it came to that, we'd be in a pretty poor state."
A Department for Education spokeswoman said: "We believe strongly that good schools - including grammars - should be able to expand.
"But we have not received any proposal yet for a grammar school to expand into Sevenoaks.
"We will consider such a proposal if and when it is received."