Kent County Council seeks legal advice over young asylum seekers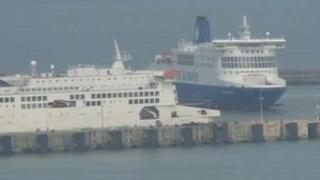 Kent County Council is seeking legal advice in a bid to recoup money spent on supporting young failed asylum seekers.
The Home Office reimburses the cost of fostering and care for asylum seekers until they reach 18.
But the council believes it has an obligation under the Children's Act 2004 to support them until they are 24.
It said it spent £6m in recent years supporting failed young asylum seekers, for whom Kent is a key entry point.
The spokesman from the Conservative-run county council said taxpayers spent £2m a year providing care and accommodation for more than 100 young asylum seekers who have been refused the right to remain in the UK.
'Breach rights'
Council leader Paul Carter said the Home Office should either deport or support them.
The county council said the UK Border Agency (UKBA) had said that once applications for asylum were denied and the individual turned 18, nobody had a duty of care to provide support to them.
"However social care legislation (defined in the Children's Act) states that councils must provide support, for care leavers, and it is highly likely that to wash their hands of them will breach their human rights and result in expensive legal challenges to the council," the spokeswoman said.
She said the authority's lawyers were looking into whether the Children's Act took precedence over asylum laws.
The authority said it would invoice the UKBA on a monthly basis.
Conservative Rochester and Strood MP Mark Reckless, a member of the Home Affairs Select Committee, said he was "astonished" that the council was supporting failed asylum seekers aged over 18.
Providing support would encourage more unaccompanied asylum seekers to arrive in the county and be kept at taxpayers' expense, he said.
"They have been ordered to leave the country," he said.
"If every single failed asylum seeker has to be deported forcibly then the costs become much greater."