RSPCA fails to halt live sheep exports from Ramsgate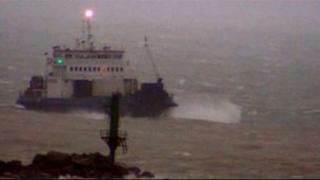 The RSPCA has failed in a renewed attempt to challenge the legality of the export of live sheep through the port of Ramsgate in Kent.
Its lawyers asked a judge at the High Court for permission to seek a judicial review.
They argued there were insufficient safeguards to prevent the unnecessary suffering of animals shipped to the continent from the port.
Mr Justice Ouseley ruled the RSPCA had failed to establish an arguable case.
Sitting in London, the judge rejected the RSPCA's application for a full review hearing.
The animal welfare charity is now considering a last-ditch application to the Court of Appeal.
The organisation attacked aspects of government policy which allows live sheep exports from Ramsgate to Calais, and criticised arrangements put in place by the Animal Health and Veterinary Laboratories Agency (AHVLA).
'No arguable case'
Tom de la Mare, barrister for the RSPCA, accused the AHVLA of unlawfully permitting the transport of sheep via Ramsgate without ensuring that appropriate unloading facilities were in place at or near the port to safeguard animal welfare.
He also argued that a new AHLVA inspection policy was unlawfully allowing the agency to "evade its obligations" to ensure proper inspections were carried out before consignments of sheep were shipped to Calais aboard the transport boat MV Joline.
Mr de la Mare said the animals suffered when the vessel set sail in weather conditions with winds of Force 5-6 and above.
Rejecting all the grounds of challenge, the judge said: "There is no arguable case that there has been an unlawful construction of the regulations."
He observed that "underlying some of the issues" raised by the RSPCA was its "hostility to the live export trade in animals, including sheep".
'Very disappointed'
Mr Justice Ouseley ruled "untenable" the argument that the inspection policy had been changed to evade the effective inspection of animals in transit.
The RSPCA said it was very disappointed by the decision.
"We believe we have a strong case - the Port of Ramsgate is inadequate for the safe and humane handling of live animal exports," it said in a statement.
"There are no facilities at or very near the port enabling the immediate unloading of animals in the event of a welfare emergency."