Children escape arson attack on home in Sheerness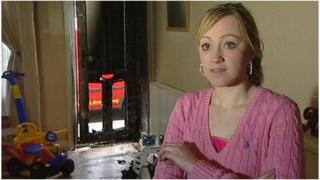 Three young children escaped an arson attack on a terraced home in a town in Kent, say police.
The attack, in Jefferson Road, Sheerness, took place at about 22:30 GMT on Wednesday.
Police said the house was damaged by fire and smoke, but none of the five people inside, including the children, was injured.
Mother Cher Ryder said: "It was really scary, I thought I was going to die - they're heartless."
It is thought part of the door was kicked in, then petrol poured through and set alight.
As the family escaped through the back of the house, neighbours tackled the flames with buckets of water.
Ms Ryder said: "They [the arsonists] probably don't have kids so they can't understand... they'll pay for this in the end."
Det Sgt Lee Neiles said: "This was a disgraceful and cowardly attack on a family home."