Canterbury enthronement: Royal protester bound over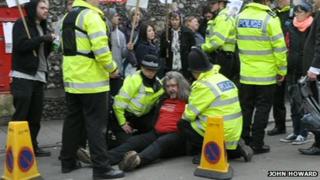 A protester who lunged at a car carrying the Prince of Wales and the Duchess of Cornwall has been bound over to keep the peace for 12 months.
Jonathan Elliott, 47, was arrested after running at the royal couple's car shortly before the Archbishop of Canterbury's enthronement on Thursday.
It happened as guests filed into the cathedral grounds in Kent.
Unemployed Elliott, of Sydney Road, Whitstable, will have to pay £100 if he breaches the peace in the next year.
Elliott, who asked to be referred to as "Dude" when he appeared at Canterbury Magistrates' Court, wore a T-shirt emblazoned with the slogan: "I'm afraid and therefore unquestionably disobedient".
Handing out leaflets
The incident took place just outside Mint Yard Gate at The Borough in Canterbury.
Prosecutor Julie Farbrace said police had seen Elliott handing out leaflets.
"It was shortly afterwards that Elliott was described as making a clean run at a vehicle which it is believed that the Prince of Wales was within," she said.
Ms Farbrace said Elliott, who claims incapacity and disability benefits, was deemed to be a threat to himself and others and was arrested to prevent a further breach of the peace.
Elliott's solicitor, Rocco Marinaccio, said his client had "issues" and accepted that he would be bound over to keep the peace.
Kent Police said there were no other incidents or arrests in connection with the enthronement ceremony of the Most Reverend Justin Welby as the 105th Archbishop of Canterbury.