Portas money for Margate regeneration 'will not be wasted'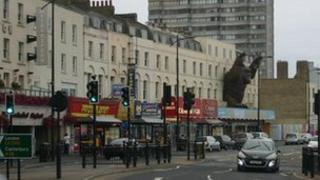 Traders, shoppers and residents in a Kent seaside town have questioned why only a fraction of the money given for a regeneration scheme has been spent.
Margate was awarded £100,000 from a government fund set up a year ago to help bring empty shops back into use.
The High Street Innovation Fund was part of the government's response to Mary Portas' review of the High Street.
Richard Ash, chairman of the Margate Town Team, said an action plan was targeting the money where needed.
'Fewer empty shops'
Describing a public meeting held in the town on Thursday night as "extremely positive", he said "hundreds and hundreds of hours of voluntary work" had already gone into regenerating Margate, with some money already spent on community projects.
Mr Ash added that there were also fewer empty shops in the High Street after nine new businesses had moved in.
"But at the moment the money is sitting in the council and will be targeted where the town team thinks it's best to target it at the time," he explained.
"We're not going to go and throw money around and then people say why have you wasted money?
"Hopefully when the money is spent it will be targeted in the right way."