Canterbury's Westgate Towers traffic ban reversed despite council support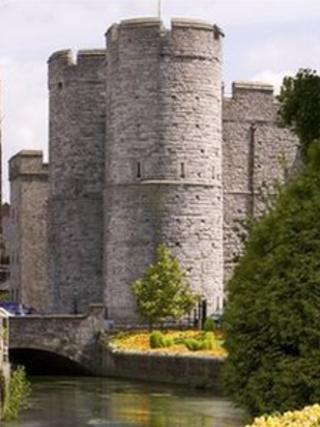 A temporary ban on traffic passing through Canterbury's Westgate Towers is to be reversed despite the city council wanting it to remain.
The Westgate Towers Scheme in Canterbury has lowered pollution and traffic, say Canterbury City Council.
However, the authority behind the scheme, Kent County Council, said work to reverse the year-long scheme would begin on 8 April.
It has warned there will be traffic delays while work is carried out.
The chief executive of Canterbury City Council, Colin Carmichael, said: "We think the trial has been generally successful and we think the layout should be carried on while we assess results and find a permanent solution.
"This is a scheme that the county council runs and it's their decision, but we don't agree with them.
"The good thing is that they have promised we will have discussions over the summer about a permanent solution."
The reversal of the scheme will see the pedestrian crossing in North Lane reinstated, traffic signals removed and the road resurfaced.
A spokeswoman for Kent County Council said: "The experimental scheme is being removed following the completion of the year trial and the results will be assessed to develop a permanent scheme following a full consultation with the community."