Tony Streeter celebrates 75 years in Speldhurst choir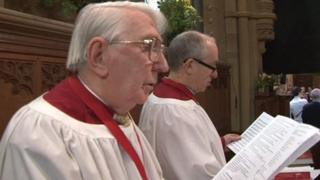 A chorister is celebrating 75 years of singing in the choir at a church in Kent.
Tony Streeter, who will be 82 this month, started singing at St Mary's Church in Speldhurst, near Tunbridge Wells, at the age of seven.
"I really enjoy the fulfilment," he said. "It adds to your life and gives you a bit of support for what happens through your life."
Mr Streeter had round of applause from the congregation on Easter Sunday.
He was invited to join the choir as a probationer after he began waiting outside the church at the age of six to watch the choirboys go in.
Later, he was encouraged to carry on singing by his mother after he caught TB at the age of 15.
"She said to me many times to keep up the singing because that's what got you through it, so I still do it for my mum," he said.
Mr Streeter said he remembers hearing that WWII had been declared in 1939 while he was in church.
"The churchwarden came up to the rector, who was giving a sermon in the pulpit," he said.
"He whispered to him that war had been declared and the rector said, 'We are now at war with Germany. If anyone wishes to leave the church they can or if anyone wishes to stay in silent prayer feel free to do so'.
"We carried on with our practices and everything, despite the war.
"The evening service was brought forward to 3pm so you wouldn't need light in the church, but practices were held in the vestry, which was blacked out."