KLM Royal Dutch Airlines flights from Kent to Amsterdam flights begin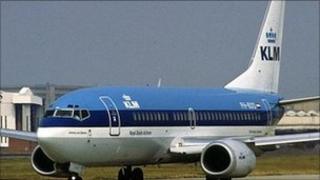 Twice-daily KLM Royal Dutch Airlines flights between Thanet in east Kent and Amsterdam have begun.
Passengers departing from Manston Airport to Schiphol in Amsterdam will be able to take connecting flights to destinations around the world.
Thanet North Conservative MP Sir Roger Gale said using Manston as a hub for Schiphol could take business away from the UK aviation industry.
But he said it was a "tremendous opportunity" for Manston.
The first 55-minute flight left Manston at 10:30 BST.
Facilities at Manston have been upgraded with a new executive lounge, and about 46 jobs have been created.
Airport chief executive Charles Buchanan described the new venture as "a service to the world".
"It connects in to 130 routes across the world on the whole of the KLM network," he said. "It's a fantastic opportunity."
'Tremendous opportunity'
Sir Roger said it was "for others to decide" whether the UK aviation industry was shooting itself in the foot by connecting to Schiphol.
He said: "It's a tremendous opportunity - dangerous for the United Kingdom because if we don't sort out our own aviation we're going to lose out to Schiphol which will become Europe's main hub airport.
"But as far as Manston is concerned, and employment here is concerned, it's a tremendous opportunity."
Madeline Homer, director of community services at Thanet District Council, said it was "an exciting opportunity", but added that the majority of residents who responded to a consultation were concerned about noise from night flights.
"It's a legitimate concern the residents have and something that we're hoping the airport is going to respond back to us and address some of those concerns," she said.