Kent NHS trusts overpay staff by £3m over five years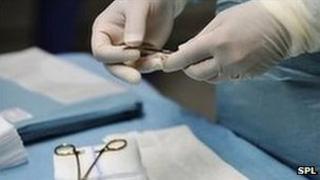 More than 2,000 doctors and nurses at all four NHS trusts in Kent have been overpaid by nearly £3m since 2007, documents have revealed.
A BBC Radio Kent investigation found in one case a consultant was paid an extra £42,750, while another was overpaid by £33,800.
The trusts said all errors were pursued and debt collection agencies were used if not recovered through salaries.
They added they had so far been able to retrieve about two-thirds of the money.
It follows a Freedom of Information request by the BBC to the NHS trusts - Maidstone and Tunbridge Wells, East Kent, Dartford and Gravesham, and Medway.
'Diligent approach'
The responses revealed that at least, 2,389 staff had received some form of overpayment from payroll departments between the financial years of 2007-08 and 2011-12, although it was not possible for every trust to give all the data for the periods requested.
Maidstone and Tunbridge Wells was one of the highest with, as an example, 312 out of the 5,000 staff employed during 2010-11 being overpaid by a total of £442,099.
However, it managed to recover £300,631, and said where possible it arranged repayment plans with staff when an error occurred.
A spokesman for the trust said its overpayments had fallen sharply since then, due to "a better system and a more diligent approach".
East Kent Hospitals University NHS Foundation Trust, which is the largest in Kent and employs more than 7,000 people, said it had also been steadily reducing incidents of overpayments made to its staff
In 2008-09, 317 staff were overpaid by a total of £376,343, but this was reduced to 223 staff in 2011-12, with overpayments down to £152,640.
The trust explained that it had implemented a new payment system a few years ago which had made it easier to quickly correct errors.
Figures from the Medway NHS Foundation Trust, which runs the Medway Maritime Hospital, revealed the most amount a single member of staff had been overpaid since 2007-08 was £42,752, which went to a consultant.
'Overpayments rare'
The trust's highest number of miscalculations were during 2009-10 when 170 staff were overpaid by a total of £204,684. It said £179,306 was recovered, but £25,378 had to be written off.
The Dartford and Gravesham NHS Trust, which runs the Darent Valley Hospital, said it had "robust systems in place" and overpayments were rare.
During 2011-12, it overpaid 62 staff a total of £52,080, with £25,699 recovered through salaries and £405 written off.
It said if an overpayment could not be recovered via salaries, it was recovered through the trust's debtors process or a debt collection service, but actual figures were not available as they were not kept centrally.
Former NHS finance director in the South East Noel Plummeridge said: "It's worth noting it's not a Kent specific problem - this is something that's been noted across the NHS - it's not a new problem, it's been going on for some years.
"In a way the automation is part of the problem - we're talking about large organisations. The payroll team, be they in-house or outsourced, won't know all of the things that are going on so they rely on managers to tell them if someone has left or, more commonly, has a change in their working hours, perhaps a change in their banding. If there's a delay in that information getting through to payroll you're into overpayment."
Sara Doddsworth, operations manager at the Royal College of Nursing, said the figures showed trusts were pursuing the money whereas in the past they "would have been more forgiving".
However, Simon Bolton, Unison's regional organiser for Kent, said the mistakes should not be occurring in the first place given "today's technology and with the advancements and processes over the past 20 years".