Alert as east Kent A&E units see high demand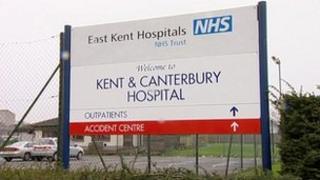 Two A&E units in east Kent are experiencing "very high demand" and patients have been urged to consider where else they can receive care.
East Kent Hospitals NHS Trust said demand was very high at A&E units in Ashford and Margate and also at the emergency care centre in Canterbury.
The trust said the situation had put pressure on waiting times and people who needed urgent care.
On Saturday, Canterbury had twice the numbers of patients expected.
More than 180 cases were seen instead of the expected 90.
'Unprecedented demand'
In a statement, the trust said: "People who are not well are being asked to consider which service is best for them as this will help them to get treated more quickly and appropriately."
Dr Andrew Heller, divisional medical director, said patient numbers had risen throughout the winter but had increased hugely over the past few weeks, leading to unprecedented demand in the past fortnight.
He said the units had seen demand double at some times of the day but overall the increase in numbers was about 30% or 40%, with the main pressures at evenings and weekends.
Dr Heller said people should attend A&E if they had been involved in a significant accident or were in a medical emergency.
He said: "Unfortunately, many patients who come to hospital are not emergencies and they shouldn't be coming to hospital, that is the problem."
Advice on whether to attend A&E has been posted on the NHS trust website.