Ralph Latchana given 15 years for Wincheap murder bid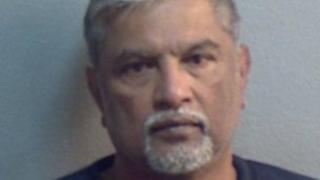 A 61-year-old man has been jailed for 15 years for the attempted murder of a motorist he crashed into in Kent.
Ralph Latchana, of Wincheap Road, Canterbury, admitted at Canterbury Crown Court trying to kill Alexander Mackay, 66, in Wincheap in September.
Mr Mackay, also of Canterbury, was stabbed twice, suffering a punctured lung and perforated bowel and kidney.
Two passers-by, who restrained Latchana until police arrived, were commended by the judge, Adele Williams.
David Reynolds and Steven Knight were also given High Sheriff's awards for their actions, in the early hours of 21 September.
Life-saving surgery
The judge also commended the police investigation.
After the sentencing, Mr Alexander, who had life-saving surgery at Ashford's William Harvey Hospital, said: "I am indebted to the two men who had the courage to stop and intervene and undoubtedly saved my life.
"I am also so very grateful to members of my family who have cared for me and supported me during this difficult time."
Det Insp Emma Banks, of Kent Police, said: "This was a savage attack and Mr Mackay stood no chance of defending himself.
"Had it not been for the very brave actions of Mr Reynolds and Mr Knight, we might have been dealing with a different outcome."