Driver held hostage near Dartford Crossing as Pirelli tyres stolen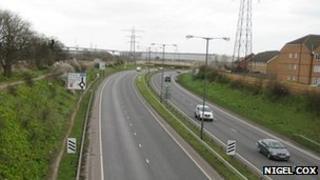 A lorry driver was held hostage at knifepoint for six hours as hundreds of tyres were stolen from his trailer near the Dartford Crossing in Kent.
He had parked his vehicle on the side of the A206 Bob Dunn Way when he was threatened at 01:00 BST on Monday and kept in his cab until 07:00 BST.
When the offender left, he noticed his trailer of Pirelli tyres was missing.
Another driver of a lorry containing Pirelli tyres was also threatened and his trailer had half its load stolen.
'Premeditated robbery'
Neither driver was injured.
In total, 1,500 tyres worth about £100,000 were stolen.
Det Con Simon Williams, of Kent Police, said it had clearly been a premeditated robbery.
"I would urge anyone that has any information to come forward.
"Also, if you are offered cheap Pirelli tyres at a price that seems too good to be true, then it probably is," he said.