Data error 'caused death of Kent Sapper Mark Smith'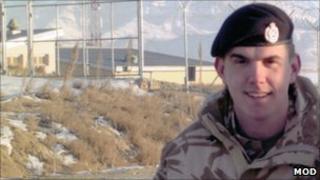 A Kent soldier died in Afghanistan after a smoke-screen shell was fired without updated weather data, an inquest has heard.
The shell fell short of its target and hit an army compound, killing Sapper Mark Antony Smith, 26, from Swanley.
Computer systems were not functioning but data was manually adjusted, artillery expert Steven Krstic said.
But he said when the missile was fired, the latest weather data, which affects the speed and direction, was not used.
Smoke shells, which cover the surrounding area with smoke, were used to distract the Taliban and help troops travel between compounds.
The shell that killed Sapper Smith fell 866ft (264m) from its target on 26 July 2010 in the Sangin area of Helmand.
'New error introduced'
The Gravesend inquest heard the round was fired after a 40-minute pause.
Mr Krstic said because the computer forecast system was down, gunners could have used the manual adjustments collected through the day, but they used weather data from early that morning.
He said: "Forty minutes later there would have been a slight change in weather, but what we have done is go back to stage one first thing in the morning when the mission started.
"You're introducing a new error. If you don't apply any (meteorological data) at all, you can miss the target by about 1,640ft (500m) to 1,970ft (600m)."
He said Sapper Smith was 866ft (264m) from the shell's target when he was hit, but safety guidelines recommended a distance of 1,640ft (500m) from smoke shells to allow for error.
"Unfortunately, having 1,640ft (500m) from troops or villages is just an ideal circumstance," Mr Krstic said.
"It is the ideal safety distance but it's unrealistic."
Sapper Smith served with 36 Engineer Regiment, based in Maidstone.
The inquest is expected to close on Thursday.