Sapper Mark Smith death: Coroner calls for inquiry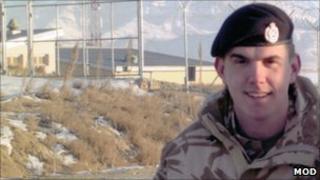 A coroner has called for an inquiry to look at "systemic failures" in an investigation into the death of a Kent soldier in Afghanistan.
Sapper Mark Smith, 26, of Swanley, was killed by so-called friendly fire after a shell fell short of its target.
Coroner Roger Hatch said the investigation into his death had been "unsatisfactory" because of missing evidence and incomplete documentation.
He said he would report the matter to the Ministry of Defence (MoD).
"I take the view that there should be a statutory inquiry into the failures," Mr Hatch said.
He said Sapper Smith died as a result of catastrophic injuries and recorded the death as having been "in the course of active service when a smoke shell fell short".
No one factor caused the shortfall, but there were a "number of possibilities or combination of factors", the coroner said.
On the day Sapper Smith died, a smoke screen was requested to distract the Taliban and allow troops to advance, and shells were fired.
But a missile fired that afternoon fell short of its target and hit a compound where Sapper Smith was resting, killing him instantly and injuring two others.
Experts told the hearing the shell had been fired without updated weather data.
During the hearing, the inquest also heard the shell had been manufactured in 1981 and propellants could have degraded with age, but on Thursday the MoD said the shell was two to three years old.
After the hearing, Sapper Smith's mother Helen Smith said she believed his death had been preventable.
She said: "The evidence shows that a broken weather computer and use of incorrect data from earlier in the day resulted in Mark's death. This is compounded by the fact that the investigation was flawed."
Adding that the family might never know if the ammunition failed, she said: "We do not blame the soldiers involved in the operation for whom we have the utmost admiration.
"However, we believe the MoD needs to take responsibility for this so as to avoid further deaths."
In a statement, the MoD said: "This was a tragic accident, which resulted in the death of a gifted and well-respected soldier. Lessons have been learnt, including that a minimum safety buffer zone of 1,640ft (500m) is established before firing smoke rounds."
The Mod also said it would consider the coroner's findings in more detail before responding officially.
Captain Douglas Brain, who was with Sapper Smith at the time of the incident, paid tribute to "a man who truly lived life to the full, with an unrivalled wit and a wicked sense of humour".
He said Sapper Smith was sorely missed and his sacrifice would not be forgotten.
Sapper Smith served with 36 Engineer Regiment, based in Maidstone.