Medway bookmakers asked to sign gaming code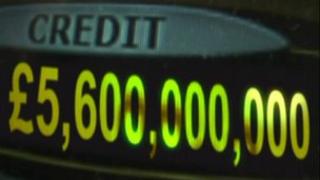 High street bookmakers are being asked to sign up to a code of practice with Medway Council.
Some betting machines allow gamblers to spend up to £100 at a time and some players report debts of over £5,000.
Medway Council said gambling debts could lead to domestic abuse, stress and self-harm.
The Association of British Bookmakers said the industry donated almost £6m to the research, prevention and treatment of "problem gambling".
Medway Council said the time between spins of the roulette wheel on the fixed odds betting terminal (FOBT) machines was about 20 seconds and it was possible to bet £100 a time, or up to £18,000 an hour.
'Responsible gaming'
There are 30 bookmakers in Medway and each bookmaker is allowed to have four FOBT machines in each shop.
One salesman from Brighton said: "I was putting in, on a sort of average sitting, sort of £300 to £500. With a heavy loss being say £800 to £1,000."
"I think over my lifetime, I've probably gambled and lost about £200,000."
Cllr Mike O'Brien (Con) from Medway Council, said: "We've got nothing against responsible gambling.
"My concern is the problem gamblers, those that are having to borrow money or obtain money to fund their habit... These people do need help."
A reduction in the value of prizes and limiting stakes would help reduce problem gambling, he added.
Under the code, "problem gamblers" would be able to apply for voluntary orders banning them from bookmakers in the area.
'Straw poll'
In an questionnaire undertaken by BBC South East, 138 people in Chatham and Medway over 6 days in March answered questions on their gambling.
The results have no statistical or representative value, the BBC South East said.
Of the 138 questioned, 69 had played on FOBTs, with 19 saying they were addicted.
Of the 20 people questioned who said they had a "gambling problem", 14 were players of the machines.
Twelve people said they played the machines every day and 27 said they played once or twice a week. Four said they spent more than £200 a day.
Four of the machine-players said they had debts of more than £5,000. Ten of the non-FOTB players said they owed similar amounts.
If a maximum stake of £2 was introduced, 35 FOTB players said they would be less likely to play.
'No validity'
Prof Jim Orford from Gambling Watch UK, said: "I have been convinced for a long time that gambling can be just as addictive as substances like alcohol addiction or drug addiction. My own view is that they shouldn't be on the high street."
Bookmakers said that staff are trained so that they can identify and help problem gamblers.
Dirk Vennix from Association of British Bookmakers, said: "One problem gambler is one problem gambler too many, and we take these issues seriously."
In a statement, bookmakers, William Hill, said: "This survey conducted on behalf of BBC South East is neither statistically significant, academically sound, comprehensive or balanced.
"There is no evidential correlation between higher stake levels and problem gambling.
"We do not consider any of the findings to have validity."
The Brighton gambler said: "It just takes everything from you, mentally, emotionally, physically, and it takes you to a lot of dark places. "