Hemingway and Chipperfield back East Kent City of Culture bid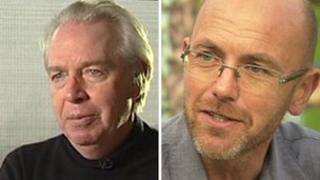 Designer Wayne Hemingway and architect David Chipperfield have both given their backing to East Kent's bid to become UK City of Culture in 2017.
The five districts of Ashford, Canterbury, Dover, Shepway and Thanet have joined forces against 10 other places vying for the title.
In supporting the bid, Sir David said the area's creative revival had been "truly astonishing".
Mr Hemingway said East Kent was "clearly finding its cultural mojo".
Last year it was announced that, along with his wife and the HemingwayDesign team, he would create the overall scheme and branding for the disused Dreamland site in Margate.
'Shining example'
Mr Hemingway said through this work he had come to "recognise and appreciate the depth, resourcefulness, creativity, diversity and wit of the area's cultural community - a community that is well equipped to deliver projects of international significance".
Sir David, who designed the Turner Contemporary in Margate, said East Kent was "a shining example of the positive role arts and culture can play in driving economic regeneration and social growth".
Kent County Council has launched a campaign to encourage people to back its City of Culture bid, under the slogan - East Kent: A City Imagined.
Chris Hespe, head of culture and sport, said: "Bidding for the UK City of Culture in 2017 isn't just about where we are today - it's about where we could be.
"This is an opportunity to build on the fantastic achievements of the past few years and inspire generations of people from East Kent to take ownership of their cultural institutions."
He said the economic benefits and legacy of the bid had the potential to bring "vast numbers" of new visitors to the area, create jobs and drive regeneration and growth.
The English contenders for the 2017 title, announced in March, are Chester, East Kent, Hastings and Bexhill-on-Sea, Hull, Leicester, Plymouth, Portsmouth and Southampton, and Southend-on-Sea.
Swansea Bay in Wales and Aberdeen and Dundee in Scotland are also competing.
The winner will succeed Londonderry, which is the City of Culture for 2013 and the first place to be awarded the title.