RSPCA collects oil spill birds off Kent coast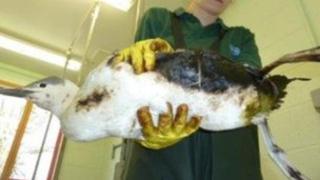 A number of birds have been collected by the RSPCA off the Kent coast after they were caught in an oil spill.
The charity said the birds were found covered in black fuel oil off Ramsgate and Rye, East Sussex, last week.
Two of eight red-throated divers had to be put down after ingesting the oil, and a dunlin also died, a spokeswoman said.
However, seven of the 11 birds taken to the RSPCA's Mallydams Wood wildlife centre in Hastings have survived.
The stricken birds were all found in the Ramsgate harbour area except for one red-throated diver, which was in Rye harbour.
'Very caustic'
An RSPCA spokeswoman said there was no connection between the incident and the birds that washed up on the south coast of England covered in an oil additive, as the types of oil were different.
The charity said it did not know how or where the birds found in Kent came to be covered in oil.
RSPCA wildlife supervisor Richard Thompson said: "The oil we are dealing with is very caustic and the two we have had to put to sleep had ingested a lot of it.
"It is important we work as quickly as we can to see if we can clean them enough so that they can float, because they very quickly wear down their feathers when they are edging round our containers."
He added that the birds' feet could crack badly when they were out of the water for a long time.