Kent County Show loses county council exhibitor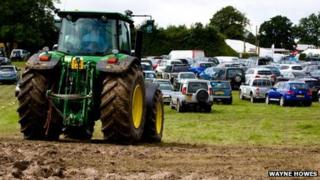 The Kent County Show has lost one of its most high-profile exhibitors, after the county council said it would not take part in this year's event.
The authority has blamed "tough financial times" for the decision.
Visitors to the show last July were turned away after heavy rain made the car park areas too muddy to use on all three days of the event.
A council spokesman said the decision was made after a review of the authority's presence at public events.
He said: "We have taken the decision not to take a stand at the county show this year.
"In these tough financial times we need to make sure that our expenditure gives the best value for money for the council so we have looked carefully at where we can make savings.
"This has been a difficult decision."
The show's organisers did not want to comment at this stage.
The show takes place between 12 and 14 July.