Ebbsfleet United: Back from the brink of disaster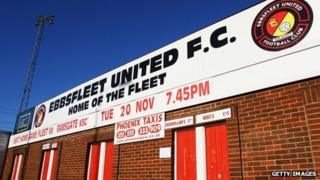 The takeover of Ebbsfleet United by KEH Sports Limited has finally been completed.
The Kent football club was days from folding when the Kuwaiti consortium came to its rescue.
Back in 2008, their future looked assured when they made history by becoming the first football club to be taken over by a website, MyFootballClub (MyFC).
That year saw the Fleet win the FA Trophy at Wembley, the biggest cup competition exclusively for non-league teams.
But interest waned and in April this year the club was relegated, broke and close to going out of business.
But how did this situation come about?
In 2007, the club changed its name from Gravesend and Northfleet to Ebbsfleet United, after agreeing a sponsorship deal with Eurostar, whose trains use the nearby Ebbsfleet International station.
The following year the Fleet was taken over by MyFC in a ground-breaking sporting experiment.
The website's subscribers, many of whom had no previous ties to the club, were told they would have the final say on transfer dealings, tactics and squad selection.
But that almost never happened and interest began to wane.
At its strongest point there were more than 30,000 MyFC members but when the first decision was put to subscribers, about whether or not to buy Ebbsfleet, only 18,000 remained.
The Fleet was relegated into the Conference South in 2010, before being promoted back into the Conference Premier the following year.
'Dark days'
Last season they were relegated again and were in a bad way financially with arrears in payments to HM Revenue & Customs and facing a winding-up order.
Fleet chairman Jessica McQueen had appealed for donations from fans in order to keep the club going.
Speaking to the BBC this week, she said: "In the dark, damp days, around January, February we had no money to pay for the oil to heat the offices.
"We were pretty much on our own in there with our coats on, absolutely freezing to death.
"I think they were the sort of things that make you realise the football club is more important but maybe we weren't going to succeed."
Peter Varney, chief executive of KEH Sports Ltd, said the club was now "completely debt-free."
As part of their takeover plans, the new owners proposed a transfer budget for next season of £100,000 and a wage budget of £8,000 per week.
It also committed to the construction of a new stand at Stonebridge Road.
Mr Varney, former chief executive of Charlton Athletic, explained that Kuwaiti investor Dr Abdulla Al Humaidi was "looking to build a club".
"He wanted to take something from scratch and really build it up and he wanted to perhaps do it in an area where potentially there was going to be growth," he said.
"Of course with Ebbsfleet International across the road, the talk of the Paramount Park just to the right of us, this is quite an exciting area to be in."
Steve Brown, a former Charlton defender, has been appointed as the club's new manager following Liam Daish's exit last month.
Mr Brown said he wanted to build a squad and "kick-start Ebbsfleet United's journey back into the Conference Premier and beyond".