Bluewater road work cash 'may not help'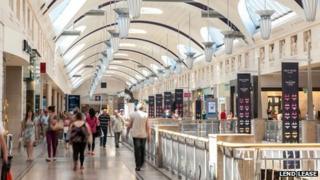 Money offered for road improvements at Bluewater shopping centre in Kent may not help the traffic situation in the long term, a spokesman for a residents' association has said.
A centre extension, which will add 20% more shops and restaurants, was agreed by Dartford councillors last week.
But people living nearby already complain of traffic congestion and air pollution.
Bluewater has said the extension would have a minimal impact on traffic.
Authorities including Gravesham Borough and Kent County councils and the Greater London Authority have expressed concerns about how the extension will affect local town centres.
The expansion is expected to create more than 2,000 jobs.
Ashley Johnson, assistant secretary of Bean Residents' Association, said the group would have liked to have seen a link between the opening of the extension and road works.
"The £20,000 was a last-minute offer by Bluewater to commission a study to see whether anything could be done short-term to improve the situation," he said.
"There's some fear about that and some councillors did not want to accept the £20,000 because they felt that any interim improvement meant the major works wouldn't be carried out."
Robert Goodman, Bluewater's general manager, said: "Following the approval last Thursday, we are working with Dartford Borough Council and other stakeholders on developing our plans.
"That includes agreeing the section 106 agreement [legally binding planning obligation], a key element of which is a contribution to improvements to the local road network, led by KCC [Kent County Council] and the Highways Agency.
"In addition, we will continue to work with the community to ensure Bluewater continues to make a significant positive contribution to the community."