Pie and Smash win Custard Pie championships in Coxheath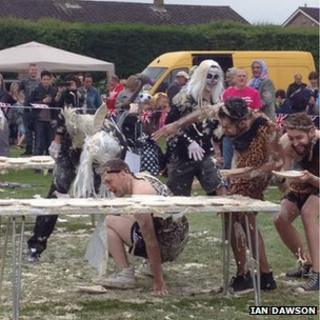 The World Custard Pie Championships have been taking place near Maidstone.
The competition between 22 teams was first held in Coxheath in 1967 and has been held in many countries before returning to Kent.
Organisers said they expected about 3,000 of the "pies" to be thrown "under strict rules" before the winning team was declared.
The championships were started by Councillor Mike FitzGerald to help raise funds to build a village hall.
Teams are awarded maximum points for throwing a pie into their opponents' faces.
Matt Wells said: "There was a really great atmosphere.
"Ghouls, men dressed up as old women, hillbillies, nuns and animals all pelting pies at each other.
"The scouts did a great job making the pies and just generally helping out."
The winners of the competition were Pie and Smash, with the best dressed award going to The Stupid Death.
The idea for the charity event came from the Charlie Chaplin comedy, Behind The Screen.
The pies are made using "harmless flour and water", rather than custard, the organisers said.