Dover District Council signs armed forces covenant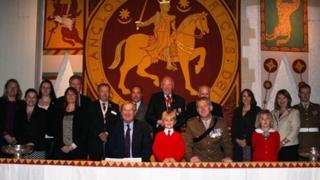 A covenant underlining the links between Dover and the military has been signed in a ceremony at Dover Castle.
The town has strong connections with the armed forces and was a garrison town for many years with soldiers based at Connaught and Old Park Barracks.
The Armed Forces Community Covenant was signed by the Dover District Council leader and the Chief of Staff, 2 (SE) Brigade, which is based in Folkestone.
Representatives of community and military organisations also signed.
'Proud of connections'
The public declaration encourages people in the district of Dover to support the service community and promote understanding of issues affecting the armed forces.
Council leader Paul Watkins said the covenant underlined "the high regard" with which people held the military.
"The district is proud of its connections with the armed forces and today's signing ensures we will go on supporting them and responding to the needs of the wider armed forces community, including serving personnel and their families, veterans, reservists and cadets," he said.
Lt Col Andrew Hodkinson, Chief of Staff, 2 (SE) Brigade, added: "The armed forces and their historic forbears have been integral to the fabric of Dover since the town's inception.
"As we now look to the future this covenant marks a commitment to ensuring our continued place in the community."