'Shock and horror' as Chatham Dock development rejected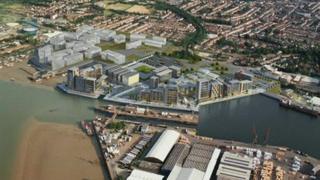 A £650m redevelopment of Chatham Docks, claimed to create 3,500 jobs, has been delayed as Medway councillors have rejected the detailed plans.
They said they were "underwhelmed" by the first phase of Chatham Waters, which includes a supermarket, petrol station, pub and open space.
"Councillors want this to happen, but it has got to be right for Medway," said Labour leader Vince Maple.
Developer, Peel Land and Property, said it was shocked and horrified.
Outline plans to transform a 26-acre site with 1,000 homes, a hotel and a conference centre as well as the supermarket were approved by the government last year.
'Not big enough'
Peel director James Whittaker said the hotel was removed from the first phase on the advice of Medway's planning officers, who recommended the application for approval.
"We were proposing a two storey hotel that was going to provide 27 beds but they didn't think that was big enough," he said.
Councillors were also concerned about existing dockyard features, particularly a dock wall, but Mr Whittaker said English Heritage considered it had no heritage value.
"It is a very high brick wall that creates a bit of a prison effect," he said.
Mr Whittaker said Peel would have to decide whether to appeal against the council's decision or submit a revised application.
The cross-party planning committee rejected the plans unanimously.
"People on the committee were using comments like they were underwhelmed and it leaves a lot to be desired," said Mr Maple.
"I hope that Peel reflect on last night's meeting and hear very clearly that Medway wants Chatham Waters but not at any cost
"It has got to work for both Peel and also for Medway."