Shed fire linked to Sheerness tower block blaze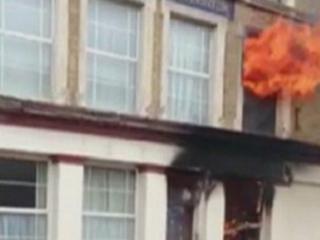 A garden shed fire in Sheerness has been linked by police to a nearby blaze at flats that left two people fighting for their lives.
The shed fire, in Alma Road on Thursday, happened after the blaze at the flats on Monday.
A man and a woman who jumped from the top floor of the blazing three-storey building are serious in hospital.
Police believe both fires were started deliberately. A boy was arrested and released on bail after the flats fire.
The fire at the flats left several people homeless.
Insp Tony Cannon, from Kent Police, said it was not thought anyone was particularly targeted as the fire was started in "an insecure doorway to a communal area".
He added there was no specific information to link the two fires, other than their proximity to each other.