Ex-GP Navin Zala sex assault victim 'tip of iceberg'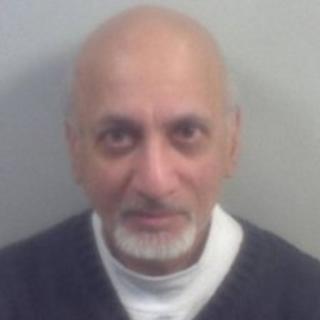 One of the victims of a former GP who was jailed for indecently assaulting patients has said she thinks her case is just the tip of the iceberg.
The woman, who the BBC is calling Mary to protect her anonymity, believes Navin Zala may have as many as 100 other victims.
Zala, 63, from Gravesend in Kent, was convicted of 10 counts of indecent assault, at Hove Crown Court last month.
He was sentenced to 11 years in jail.
The doctor assaulted patients at his surgery in Gravesend in the late 1980s and early 1990s. Some of the victims were as young as 14.
'Nothing medical'
The first complaint against Zala was made in 1992 when a woman alleged that he carried out an inappropriate examination.
He was convicted in April after Mary and two other victims gave evidence at Hove Crown Court.
Mary said Zala abused her between 1983 and 1988, when she was in her early 20s.
He would do a breast examination every time she visited him complaining of ailments including a sore throat, earache and flu.
She said, at the time, she thought it was because of breast cancer concerns.
In 1988, Zala carried out what he described as an internal "examination".
"He put his hands inside me and started making insidious comments," Mary said.
"There was nothing medical about the examination.
"When somebody's leering over you and making comments about your boyfriend and how is sex with your boyfriend, 'Did you enjoy it and was it good?'
"There was just no doubt and I was so shocked that I almost couldn't get my breath.
"I felt very stupid because of course everything fell into place.
"I thought 'Why didn't I realise, why hadn't I picked this up before?'"
'Incredible courage'
Zala, who has been banned from practising as a GP, was also placed on the sex offenders' register indefinitely.
Speaking after Zala was sentenced, Det Con Zoe Traynor, investigating officer for Kent Police, said the former GP had abused and betrayed his patients for his own sexual gratification.
"He assaulted his victims while they were at their most vulnerable and it has taken incredible courage for them to come forward to report his crimes," she said.
"I would like to pay tribute to their bravery, which allowed us to launch an investigation and bring Zala to justice."