Ramsgate residents team up to restore West Cliff Hall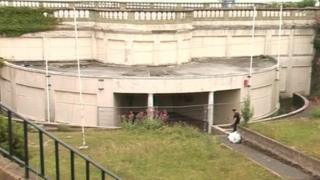 A group of residents from a Kent resort are working to restore a derelict concert hall overlooking the harbour.
West Cliff Hall is built into the cliff in Ramsgate and opened as a concert venue in 1914. It later became a motor museum before closing in 2005.
A project is under way to raise £5m to redevelop the site into a venue for the arts.
Co-ordinator and local resident Janet Fielding said the aim was to bring the building "back to life".
Rock concerts
As an entertainment hub, it would have a cinema, theatre and restaurant. It would also support a youth development programme for young people.
Award-winning actress Brenda Blethyn is also a supporter of the plans, and remembers how her mother used to work in the building's cloakroom.
"I remember this place from my childhood... it's a crime really that it's been left to fall into such disrepair," she said.
In its heyday, the hall was a top entertainment spot, even playing host to the Rolling Stones in the 1960s.
In January, a Doctor Who benefit convention, with stars including Peter Davison, David Tennant, Colin Baker, Sylvester McCoy and Paul McGann, raised more than £31,000 for the campaign, known as Project MotorHouse.