Illegal immigrants rescued on Dover ferry handed to Home Office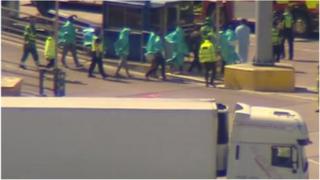 Fourteen illegal immigrants who were found in a tanker on board a ferry in Dover have been handed to the Home Office while their cases are examined.
The 15th was a minor who has been released to the care of social services.
The group was found in a lorry on the Spirit of France ferry on Wednesday.
Twelve are Syrian, two are from Kuwait and one is from Afghanistan. All of the migrants required medical treatment and two were taken to hospital.
They were said to have breathing difficulties and be suffering from heat exhaustion.
It is understood the group was discovered when banging was heard coming from the lorry as the 07.45 BST Calais-Dover ferry berthed.