Thanet council rejects inquiry into £3.4m TransEuropa debt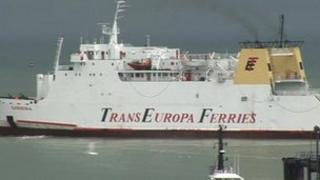 A Kent council has rejected calls for an inquiry into how it allowed a passenger ferry company to run up a £3.4m debt to the authority.
Independent and Green Party members of Thanet District Council submitted a motion to the hung council on Thursday.
Green councillor Ian Driver said the deal was kept secret, but the council said it was commercially sensitive.
The debt was made up of waived port fees and came to light after TransEuropa went into administration.
Mr Driver said: "The main problem is that this deal was kept secret from the vast majority of councillors for three years. Only a handful of very senior officers and political leaders knew about it.
Council chief executive Dr Sue McGonigal said: "If the council had not assisted by rescheduling their debts, TransEuropa would have been forced into administration, and this would have left the Port of Ramsgate without a ferry service," she said.
The debt has been lodged with the administrators.