'Devastating' Faversham traffic ban changed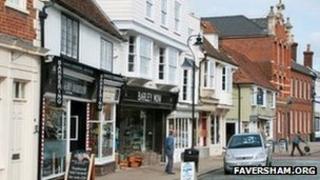 A pedestrianisation scheme which traders in a Kent market town say has been "devastating" for their businesses is being modified.
It follows a nine-month trial which extended Faversham's existing Saturday traffic ban to Fridays.
"A lot of the traders are really suffering," said Debbie Holland, from Baldie Butchers.
Swale council said changes were being made to address traders' concerns.
The pedestrianisation affected Preston Street, East Street and Court Street.
"It has been devastating," said Ms Holland. The town centre is all about shopping and shoppers have cars."
The council said businesses reported a negative effect on their deliveries and turnover when the trial was reviewed in January and February this year.
Concerns were also raised by disabled badge holders who felt parking in the nearby car park was not an option
The traffic flow in East Street will be reversed, with restrictions on disabled badge holders, permit holders and delivery drivers eased.
"I think they have backtracked but I hope it works," said Ms Holland.
"If not, I hope they look at other solutions."
The council said the changes would be in place for a six-month trial starting on Tuesday.