Woman's fingertip blown off by grenade blast at show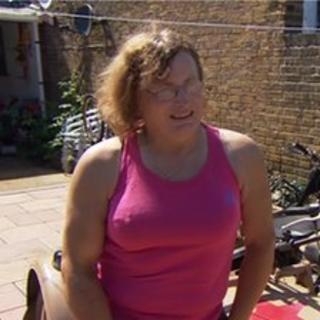 A woman had part of her finger blown off when a grenade shell she bought at a military show exploded in her hand.
Sarah Bluck, from Sheerness, Kent, also suffered burns to her stomach, legs and arms in the blast at the War and Peace Revival show in Folkestone.
She bought the device, which she thought was harmless, from a stall on Saturday.
The trade stand owner said it would be inappropriate to comment while investigations were under way.
Ms Bluck, a 48-year-old military enthusiast, told BBC South East she was buying four empty grenade casings, to add to her military collection, but realised too late that one of them was a loaded stun grenade. It went off as she inspected it.
She said there was a second explosion after she threw the device into her tent.
'Totally unexpected'
"I tried to wrap my hand up with my sleeping bag, but all I could do was call for help," she added.
"I've been around explosives long enough to deal with pyrotechnics and thunder flashes and smoke grenades in the past.
"This was just totally unexpected."
Ms Bluck, who was staying at the site and was there to display her Russian motorbike, was injured at about 06:30 BST, before the event opened to the public.
Kent Police were called to the scene and isolated the area with a safety cordon before calling the bomb squad.
Event organiser Rex Cadman said thunder flashes were often used but the device which exploded was "definitely not" part of any of the show's displays or events.
The five-day show is billed as the biggest military vehicle and living history event of its kind in the world.
It was staged in Folkestone for the first time this year after moving from the Hop Farm in Paddock Wood, where it had been held for 30 years.
The programme includes re-enactments of battles from both World Wars, as well as depictions of life on the Home Front.