'In demand' Medway mental health unit to close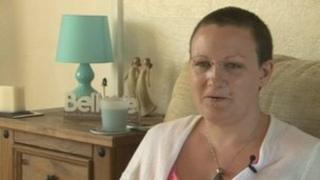 Plans to close one of four inpatient mental health units in Kent and concentrate care in the three remaining centres have been approved.
The ageing 35-bed "A Block" at Medway Maritime Hospital in Gillingham is to shut, with provision being increased in Canterbury, Dartford and Maidstone.
The NHS said rigorous checks were carried out to make sure there would be enough beds to cope with demand.
But mental health charity Mind said it was "extraordinarily worrying".
'Unprecedented demand'
The decision came the same day the trust admitted it was experiencing an "unprecedented demand" for services.
Mental health patient Jane Martin said she had been left to sleep on a mattress on the floor at the Medway Maritime unit, which is operated by Kent and Medway Partnership and Social Care Trust (KMPT).
"I was very suicidal - my mum was begging the crisis team to admit me," she said.
"Basically there were no beds anywhere so I was placed on a mattress on the floor in the quiet room for the rest of my stay."
'Pressure on services'
KMPT said the last two weeks had seen unprecedented levels of demand for acute mental health inpatient services.
"This did put pressure on our services earlier this month," it said in a statement.
"When no other bed is available in this situation, an additional emergency bed has been put up on some of our wards where clinically appropriate to cope with the demand."
Kent County Council's NHS overview and scrutiny committee approved the closure put forward by KMPT.
It was told the number of inpatient beds will fall from 180 to 162, with some of the money saved spent on increased community services.
Councillor Theresa Murray, deputy Labour leader at Medway Council, said the closure of A Block was approved on the basis the trust must prepare a detailed business plan.
She said it would have to give guarantees about the way it intended to strengthen community mental health services to prevent people going into acute care.
"This decision means that we can now move forward with the provision of excellent mental health services for people in Kent and Medway who need crisis care," said KMPT medical director Dr Karen White.
Justin Bateman, chief executive of Dartford, Gravesham and Swanley Mind said the decision to cut back on beds was extraordinarily worrying.