GP Barend Delport admits indecent child patient photos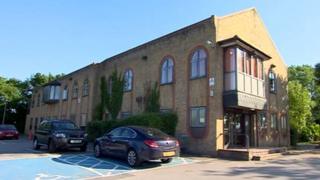 A GP who took indecent images of child patients during medical examinations has admitted a series of sex offences.
Barend Delport, of Tunbridge Wells, had about 500,000 images on his computer, including indecent images from the internet and those he had taken.
The 55-year-old admitted 26 offences at Maidstone Crown Court including sexual assault and making, taking and possessing indecent images of children.
The crimes happened at the Oaks Surgery in Swanley, Kent Police said.
Police said in one case Delport, who specialised in dermatology, took intimate photos of a patient who visited him with stomach ache.
Delport former home in Eynsford Rise, Sevenoaks was raided and more than 500,000 images were found on his computer.
These included pictures he had taken during medical examinations of adults and children at the surgery.
'Shocking crimes'
Detectives seized a number of photographic consent forms which patients had signed after Delport falsely said they would be used for "training purposes" or because their medical case was "the worst he had ever seen".
Det Ch Insp David Chewter, from the Kent and Essex Serious Crime Directorate, said: "Barend Delport's behaviour was an appalling and gross breach of the trust that patients, some of whom were vulnerable, had placed in him as a general practitioner.
"Delport didn't discriminate when it came to his victims, who were of all ages."
NHS Kent and Medway now have a formal written policy on the use of photography in GPs practices in the area, making it clear what can be photographed and what cannot.
James Thallon, Kent and Medway Medical Director of NHS England, said: "In committing these crimes, Dr Delport has completely abused the respect and trust of patients in his care."
Dr Thallon encouraged anyone with concerns about their treatment by Delport to call the NHS helpline on 0800 923 3535.
A spokesman from the surgery said: "The partners of The Oaks Surgery are still trying to come to terms with the shocking crimes of Dr Delport, and both patients and staff feel betrayed by his behaviour.
"We deeply regret the impact this has had on our patients and the local community.
"We would like to thank all those patients who helped to bring him to justice, and to express our gratitude to patients for their letters and telephone calls of support for the practice."
Delport is due to be sentenced on 9 September.