Adam Holloway MP says Gravesend Thames crossing unnecessary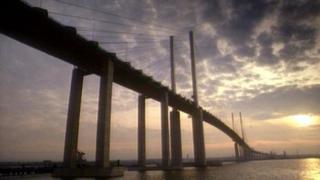 A new Thames crossing east of Gravesend in Kent is "completely unnecessary", according to the local MP.
The option is one of three being put forward as a solution to relieve congestion on the Dartford Crossing.
Option C, which would connect the M2 with the A13 and M25 in Essex, is favoured by Kent County Council.
It is also the most expensive and would pass through the Kent Downs, ancient woodland and the Thames Marshes.
The government has said a new River Thames crossing between Kent and Essex, costing up to £5bn, is necessary to tackle the traffic problems at the current crossing.
'Deeply destructive'
Adam Holloway, Conservative MP for Gravesham, recently met with Transport Secretary Patrick McLoughlin to lobby against Option C.
Mr Holloway said: "There is capacity that is not currently being used at the existing Dartford Crossing, there is capacity that is not currently being used in the Channel Tunnel Rail Link.
"It is deeply destructive of property values to people living in that area, not to mention rather beautiful marshes.
"This is going to cost five thousand million pounds. Now that's an awful lot of money for a country that's virtually bankrupt."
Mr Holloway is in favour of Option A, which would be built at the site of the existing A282, which he says would cost a third less.
At a BBC Radio Kent and Essex debate on the subject in July, Paul Carter, the leader of Kent County Council, said: "I have enormous empathy with those that will live close to the link roads or the eventually-to-be-built third Thames crossing.
"But I have to act in the best interests of the greater residency of Kent and the economy of Kent.
"The third Thames crossing is needed, there will be people materially affected by it, but we need Victorian vision and it is in the best interests of the economy of Kent and Essex and Thurrock."