Policing row threatens Chatham remembrance day parade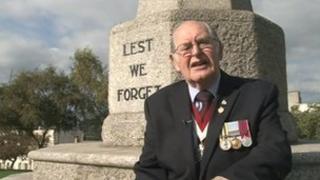 A Remembrance Day parade in Kent may be cancelled because police cannot provide enough officers to make the route safe.
About 500 people in Chatham, including war veterans, scouts and guides, march in the town on 11 November every year.
Police have asked for alterations to the route in order to prevent the use of additional officers and marshals.
Reverend Brian Adams, the Rector of Chatham, said: "They've [Kent Police] done it for the last 15 or so years... we have no alternative route."
The parade starts on the High Street and ends at the war memorial.
Korean war veteran and Medway councillor, Paul Harriott, said: "I think it would be a complete and utter disgrace.
"I think it would be a stain on the Medway Towns that they couldn't police a parade for people that are still serving in the forces and wish to pay respect to the war dead."
'Communication breakdown'
In a statement, Kent Police said they had held a number of meetings with the organisers of the parade since July and "remain in on-going discussions about the route".
Ch Insp Bryan Whittaker said the force had suggested alternative routes that were "practical, safe and can be resourced by police and marshals".
"I am disappointed that after months of negotiations and discussions in which these suggestions have been put forward, that there has been a breakdown in communication at this late stage."
The force added that new laws meant police had far fewer powers to regulate traffic for such events and were therefore no longer able to automatically provide officers to close roads.
"Much greater emphasis is placed on the organisers of events who now have responsibility to organise security and traffic arrangements," it stated.
Rev Adams said: "If the police withdraw from it we would have no option but to cancel the parade."