Kent farmer Charlie Fermor cashes in on China market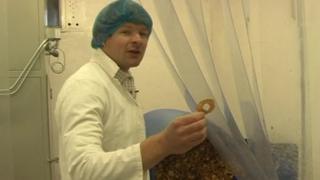 A businessman who began exporting fruit products to China last year says the resultant boom in business has enabled him to expand and double his staff.
Charlie Fermor started to ship air-dried apple crisps from Kent to the Far East, encouraged by the bigger profit potential than from UK supermarkets.
He now sends about half a million packs a year and expects turnover to rise tenfold next year.
Mr Fermor, from Ashford, said: "It's been a real struggle to keep up."
He began his mission to China about a year ago, looking to cash in on the country's growing business potential without the need to work within the stringent constraints of giant supermarkets.
Fast learning curve
While he says he has learnt some important lessons along the way, he has no regrets as demand for his dried apples and pears continues to grow.
"We didn't really know exactly what we were getting into, I suppose, because of the level of demand," he said.
"And it's been a real struggle to keep up, to be honest. But I suppose that's not a bad problem to have."
Until the China business began, Mr Fermor's business, based at his parents' Perry Court Farm, focused on selling to domestic farm shops, schools and health food shops.
"[China] was a big step up from what we had been doing before. It was a very fast learning curve - an awful lot of paperwork and an awful lot of waiting around," he said.
'Go for it'
But now those initial hurdles have been overcome, Mr Fermor has no hesitation in recommending that other businesses follow his move.
"I think definitely go for it," he said. "It's quite easy money, to be honest.
"But don't rely on it. There's a big risk factor as well."
Mr Fermor currently employs two people full-time and six part-timers.
Once his business moves into the larger premises - with new equipment - on another part of the farm, he expects that number to double.
It is exporting to other countries, too, as well as stepping up business in the UK.
But he believes China is the key market to be in. "Chinese people do tend to like spending money, and there is a growing number of very wealthy Chinese people."