Canterbury tax rise plans sparks parking row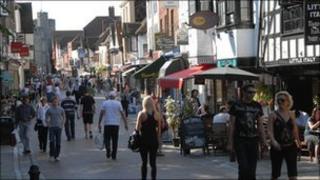 A row has broken out over a Kent council's plans to increase parking charges in a bid to encourage visitors to use a park-and-ride scheme.
Conservative-led Canterbury City Council is proposing to increase hourly car park charges by up to 50% in its draft budget for 2014-15.
The council leader admitted there was no park-and-ride facility for visitors entering the city from the north.
The Lib Dems said increased park-and-ride charges had led to fewer visitors.
Councillor James Flanagan, deputy leader of the Lib Dems, said: "The increase in the park-and-ride charge last year has led to a 6% fall in the number of people using the park-and-ride.
"We need to have another look at the park-and-ride.
"We need more people to use it, but at the moment it's actually leading to lower numbers and not increased travellers."
'Big Bug bears'
Parking charge increases of up to 50% are proposed for Canterbury, Whitstable and Herne Bay.
One car park in Whitstable would be reclassified as a short-stay car park, with charges increasing from 60p to 90p per hour.
Prices in some central Canterbury car parks would rise by 20p per hour to £1.50, with others going up by 10p to £1.20, the council said.
Councillor John Gilbey, leader of the council, said the issue of no park-and-ride for visitors approaching Canterbury from the A2 in the north was "one of my big bug bears".
"At some stage it needs to be sorted out," he said. "If we don't control the number of cars coming in then Canterbury will become grid-locked."
Mr Gilbey said the drop in numbers of people using the park-and-ride scheme was due to the weather in the winter and spring which had also affected the number of bus passengers.
He said: "The evidence is that many people come to Canterbury not to shop, but because it's Canterbury."
The draft budget will be discussed by the council later before being put out for public consultation.