Live exports campaigners use Dover's white cliffs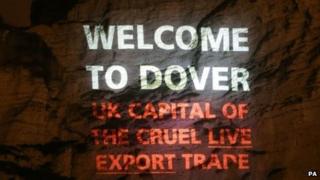 Images opposing live animal exports have been beamed on to Dover's famous white cliffs.
One of the images projected by Compassion in World Farming (CIWF) said: "Welcome to Dover. UK capital of the cruel live exports trade."
The charity believes Dover is the only English port being used to ship live sheep and calves to the continent for slaughter.
Dover Harbour Board has said it was "duty bound" to facilitate the trade.
CIWF wants the government to change the law to allow ports to refuse the trade in live animals if they wish.
'Illegal under EU law'
A spokesman for the Department for Environment, Food and Rural Affairs said: "All commercial animal transport has to comply with strict animal welfare standards.
"Rigorous inspections are carried out at the place of departure and further checks are made at the port to ensure standards are upheld.
"However, banning live exports either directly or indirectly is illegal under EU law."
Dil Peeling, CIWF's director of campaigns, said: "The images we projected on Dover's iconic white cliffs provide a sad reminder that Dover is associated in the minds of many with the cruel live exports trade.
"I am sure the people of the town, just like the majority of Britons, do not want this trade to continue."
He urged people to back the charity's calls for the government to change the law so animals were "not considered simply goods", enabling ports to decide whether they wanted to take live exports for slaughter or not.
The charity also projected images on to a derelict building near the docks, while campaigners from other groups staged a candlelit vigil.
Previously, the harbour board has said it has faced legal action after refusing to allow live exports.
Harbour officials have said any change to the legality of live animal exports can only be addressed by politicians.
But they also said they hoped the comparatively shorter sea crossing from Dover brought some relative benefit to the animals' welfare.
Earlier this year, the harbour board told the RSPCA it was "rigorous" in demanding that all aspects of animal health and welfare were met.