Allington residents in protest march to save Bluebell Wood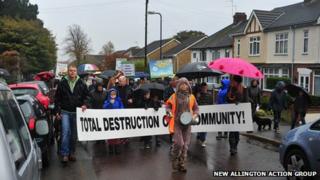 A protest march has been held by residents opposed to plans for 500 new homes on an area of open land in Kent.
They fear the site in Hermitage Lane, Allington, will destroy ancient woodland and key amenity spaces and will also cause traffic gridlock.
Developer Croudace Homes said the number of homes had been reduced from 600 and efforts made to cut the impact on the woodland of building a new road.
A planning application has been submitted to Maidstone Borough Council.
In July, residents handed a 2,000-strong petition to Conservative councillors calling for the plans to develop land around Bluebell Wood, and the subsequent destruction of more than 330 trees, to be scrapped.
'Building corridor'
Up to 150 campaigners, some dressed as woodland animals, took part in the march and rally through Allington, which was organised by the New Allington Action Group (NAAG).
Chairman Keith Young said the site had been empty for the last 40 years and "reclaimed largely by nature".
Hermitage Lane is used as an access road to Maidstone Hospital, but Mr Young said it was fast becoming "a building corridor" with developments planned for each end of it.
Jasper Gerard, Liberal Democrat parliamentary candidate for Maidstone and the Weald, said greenfield sites were not the right places for new homes.
"Surely first of all we should develop brownfield sites?
"The centre of Maidstone is really crying out for regeneration and could really benefit from investment from some new houses.
"We've got to stop the wood from being destroyed. It's ancient woodland, it's got to be saved," he said.
Maidstone Borough Council was not available for comment.