Surrey-based Royal Caribbean Cruises staff set to lose jobs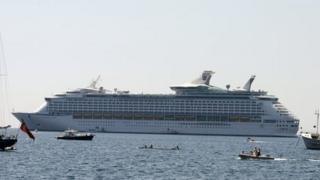 About 100 staff at a Surrey call centre are set to lose their jobs as part of a cruise ship firm's shake-up.
Royal Caribbean Cruises said its UK and Ireland operations in Addlestone were being consolidated into a smaller number of centres operated by Xerox.
The UK and Ireland call centre for Royal Caribbean International and Azamara Club Cruises will be based in Guatemala, the firm's spokeswoman said.
She said alternative roles had been found for 80 people.
The UK and Ireland call centre for Celebrity Cruises would remain in Addlestone, the spokeswoman said.
In a statement, the company confirmed: "In early September 2013 RCL Cruises Ltd entered into consultation with 170 employees based in Addlestone, Surrey.
"This consultation has found alternative roles for 80 potentially affected people.
"This includes roles created as a result of the changing structure of the business to operate dedicated teams for each of the three cruise lines - Royal Caribbean International, Celebrity Cruises and Azamara Club Cruises.
"No-one has yet left the business as a result of redundancy."