Kent Police officers suspended over 'assault'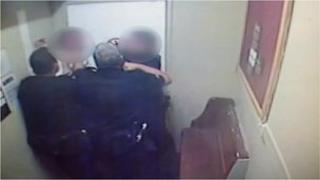 Three Kent Police officers have been suspended from duty after a suspected shoplifter was allegedly assaulted at a department store in Canterbury.
CCTV footage posted online appeared to show officers restraining a suspect by grabbing him by the throat and then repeatedly punching him.
Kent Police said it was investigating an allegation of assault on 11 July.
The force said the three officers had been suspended from duty pending the outcome of the inquiry.
BBC South East correspondent Colin Campbell said the mute footage was recorded by a CCTV camera in what appeared to be a holding room at the back of Debenhams.
'Many unknowns'
It is understood a man in a white sweatshirt was being detained for alleged shoplifting and is now being treated as a victim, he added.
"Officers I have spoken to off the record say there are many unknowns. There is no audio, so nothing can be heard," he said.
"It is unclear if there are any weapons."
Dover Express uncovered the footage on YouTube.
Kent Police told the BBC the three officers had been interviewed under caution but not arrested.
The matter is now with the Crown Prosecution Service.
The force also said they referred the case to the Independent Police Complaints Commission, which handed the issue back to the force.
Kent Police and Crime Commissioner Ann Barnes said: "As soon as this incident came to light the officers involved were immediately suspended.
"Kent Police is currently carrying out a thorough investigation into this."