Kent Police investigate Canterbury identity theft fraud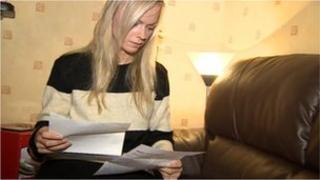 Repeated identity thefts where a woman's details were used to set up fraudulent payday loans and phone contracts are being investigated.
Zoe Collins, of Canterbury, said accounts opened in her name included phone contracts, payday loans and store cards. She believes she has been targeted by someone who knows her.
Companies involved said they had taken action to resolve the situations.
Kent Police confirmed it was investigating the incidents.
Ms Collins said she had received repeated bills demanding hundreds of pounds and added that the accounts had been set up online.
"It's very, very stressful," she said. "It was starting to affect my work, because I was getting phone calls every day, letters through the post and I was just, I didn't know what to do."
'Online risks'
Companies involved included Payday Express, O2 and BT.
Payday Express told the BBC it had taken action to resolve issues.
BT said it was investigating how a broadband account could have been opened without her knowledge.
O2 said it cleared the balance when it became apparent an account had been opened fraudulently.
A statement from O2 said: "We take any fraud activity seriously and urge customers to contact both us and the police immediately if they suspect they have been a victim of a crime like this."
Criminology expert Professor Martin Gill said the online world had changed the dynamics of business.
He said: "Just as it's been a great opportunity for people to do things differently, so offenders have found new ways of working.
"One of the big advantages, of course, of shopping online and doing your banking online is you don't have to be seen."
Figures from Action Fraud said 7% of the UK population had been victims of identity fraud, and identity-related crimes accounted for 65% of all fraud recorded.
Acton Fraud said the average loss to each victim was £1,190.