Sheppey crossing crash 'nightmare' lives on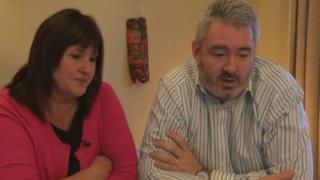 More than three months after being hurt in one of the UK's biggest multiple-vehicle crashes, Gill Hudson is still having nightmares.
One of 60 people injured in the 130-vehicle crash on the Sheppey crossing, she was carried away from the scene on a back board wearing a neck brace.
An ambulance took her to hospital, where she was found to be suffering from whiplash.
She is still having physiotherapy and is "terrified" to drive on the bridge.
Mrs Hudson and her husband Andrew, both prison officers who live and work in Sheppey, were together in the car when the crash happened in thick fog on 5 September.
Mr Hudson swerved to avoid a van in front of him but their car was hit from behind and written off.
Struggling with injuries
"My husband has to cope with my nightmares and I don't drive much now," said Mrs Hudson.
"I don't go near the bridge unless I really have to. I am terrified of going over it."
She said the crash was still a major topic of conversation on the island on the north Kent coast with many people, like her, still struggling with injuries from the crash.
The Hudsons' insurance company settled their claim quickly and they bought a new car two weeks later but she said others were still waiting.
The Association of British Insurers (ABI) said that in complex accident scenarios drivers might experience lengthy delays to claims.
But spokesman Malcolm Tarling said he was not aware of any particular problems with the Sheppey crash.
"The individual insurers will be dealing with them in the normal manner," he said.
Warning signs
Gordon Henderson, MP for Sittingbourne and Sheppey, has written to Transport Secretary Patrick McLoughlin asking for a review of safety measures on the crossing to ensure there are no more large scale crashes.
"What I am really concerned about is the fact that in fog there were no warning signs to encourage drivers to slow down," said Mr Henderson.
"I am very hopeful that the solution will be to have permanent matrix signs on either side of the bridge."
The £100m four-lane dual carriageway crossing, which connects the Isle of Sheppey with mainland Kent, opened in 2006.
That year, safety fears were raised by the then Chief Constable of Kent, Mike Fuller, who voiced concerns about there being no emergency telephones, lighting, or hard shoulder, and called for a speed limit reduction.
The Highways Agency said it could not comment while the police investigation into the crash was still under way.
"Safety of drivers is a top priority for the Highways Agency and that is why it is continually monitored and kept under review," it said in a statement.
"The A249 Sheppey crossing was designed in accordance with standards set out in the Design Manual for Roads and Bridges and has had a good safety record since its opening.
"We will work with the police in their investigations into the incident and will consider any recommendations and further findings that are made by the police as a result of the outcomes of the investigation."