Ofsted inspectors brand K College inadequate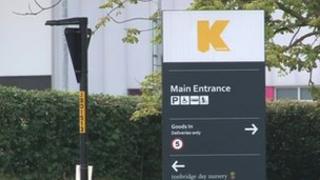 A troubled college in Kent has been rated inadequate by Ofsted inspectors.
K College ran into £16m of debt in 2012, and inspectors said concern over its future had "severely and adversely affected the learner experience".
The principal of the college, which has sites in Dover, Folkestone, Ashford, Tonbridge and Tunbridge Wells, said the move was "no surprise".
It has been put into administered college status by the government, which will control its spending and budgets.
The move followed "weaknesses in the governance of the college" being identified in a review by the Further Education Commissioner after the Ofsted inspection had been carried out in November.
'Almost inevitable'
College principal Phil Frier, who took control 12 months ago, said the governors had been stripped of direct control of staffing and spending, but the status was not the same as when a company "goes into administration".
He said the college would continue to operate as normal, and staff would be paid as usual.
Mr Frier said the Ofsted rating was "no surprise and was almost inevitable".
"What's emerged from this inspection is that the pace of our improvement needs to be faster," he said.
About 15,000 people study at K College's campuses in five towns, while it employs more than 1,100 staff.
Mr Frier said it had heard this week how the move to new ownership from next August would progress in the next few months.