Highways Agency in Kent bridges alert as gales forecast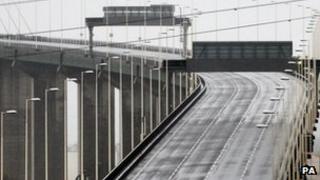 Drivers of high-sided vehicles have been warned to avoid bridges in Kent amid forecasts of strong gales and heavy rain.
The Highways Agency said it had issued a severe weather alert, with winds expected to reach between 60 and 65mph.
Motorists driving vulnerable vehicles have been advised to avoid the M2 Medway viaduct, Sheppey crossing and Dartford bridge.
More than 130 vehicles crashed in fog on the Sheppey crossing in September.
The Highways Agency said road users driving high-sided vehicles, riding motorcycles, or towing any kind of trailer were being urged to check traffic and weather conditions before setting out on journeys.
Ferry crossing alert
It said the QEII bridge at Dartford would experience gusts from 21:00 GMT until midnight.
Warnings were also in place for the A2 Jubilee Way near Dover.
The Port of Dover also advised customers to contact their ferry operator or check the port's website for the latest information.
It said high winds potentially in excess of 50 knots were forecast between 19:00 GMT and 03:00 GMT.