Medway fast food ban 'draconian' say businesses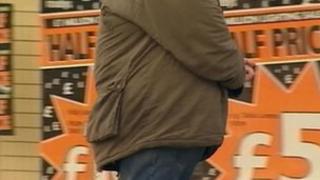 Plans to limit the number of fast food outlets opening near schools in Medway towns have been described as "draconian" by business leaders.
Medway Council is considering banning new takeaways within 400m of schools and insisting there are at least two shop fronts between each one.
Councillor Andrew Mackness said it wanted to tackle high levels of obesity among children in Medway.
Kent Small Business Federation said legislation would not change behaviour.
"Obesity in Medway is a major issue," said Mr Mackness.
"Obesity among children is above the national average and it is something we need to deal with.
"This is part of a wider process of educating individuals.
"Anything that adds to the opportunity to reduce health inequalities has to be good."
'Behavioural change'
An estimated 30% of the adult population of Medway and more than 20% of 10-year-olds are classified as obese.
Medway's health and wellbeing board is to discuss on Thursday whether new planning guidelines should be introduced to restrict the number of takeaways.
The next step would be a public consultation.
"Draconian measures alone will not affect people's behaviour," said Neville Gaunt, chairman of Federation of Small Businesses in north Kent.
"Saying there's a Chinese restaurant here so you can't open up an Indian restaurant next door is a draconian measure."
"They need to actually make a behavioural change happen. It needs to be a concerted effort across all interested parties."