Eurotunnel Dover Calais ferry ruling reconsidered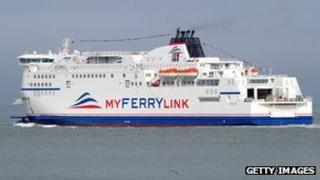 The Competition Commission is to reconsider whether it can ban Eurotunnel from running cross-Channel ferries following a legal challenge.
Last June, the commission said the channel tunnel operator could no longer run ferries from Dover as its large market share would lead to price rises.
Eurotunnel challenged the ruling and the Competition Appeal Tribunal (CAT) said the commission should reconsider.
The commission said it now aimed to make a decision by the end of April.
A judgement issued by the CAT in December asked the commission to look again at whether Eurotunnel's acquisition of cross-Channel ferries involved a merger that fell within UK merger control.
The commission said it had published its approach to this on its website and was inviting responses by 22 January.
Eurotunnel already runs the channel rail tunnel, including the Le Shuttle Dover to Calais car rail service.
The company bought three ships from SeaFrance, which went into liquidation in November 2011, and began leasing them to MyFerryLink, which began operating on the Dover-Calais route in August 2012, run primarily by former SeaFrance employees.
After the commission gave its ruling in June, it said Eurotunnel would be given six months to find some way of selling the boats before the Dover ban came into force.