Westgate Towers resignation call rejected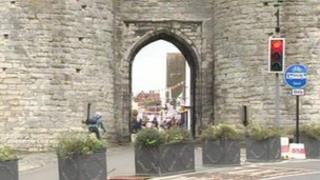 Campaigners against traffic diversions in Canterbury have failed in an attempt to force the resignation of the city council's leaders.
A petition signed by more than 3,000 people called on leader John Gilbey and his cabinet to step down over the Westgate Towers scheme.
Organiser Debbie Barwick said many shoppers were now unable to get to St Dunstan's Street.
Mr Gilbey said Canterbury's traffic problems needed to be sorted out.
A year-long pilot scheme banning traffic from passing through the medieval gateway began in March 2012.
Kent County Council (KCC) decided to reverse the unpopular scheme, which objectors said increased traffic congestion.
Affecting businesses
But Ms Barwick said traffic had not been returned to pre-March 2012 routes.
"Buses from Whitstable, the university and Blean are being taken up London Road and down Rheims Way and taking all our customers to the bus station," she said.
The city council rejected the motion calling for resignations on Thursday night but recognised "differences in interpretation" over the Westgate trial.
Mr Gilbey said the city council was still discussing traffic at Westgate Towers with KCC.
"There are thousands who cannot get down to that end of town and people are telling us it is affecting their business," said Mr Gilbey.
"At some stage (the traffic congestion) has to be sorted out.
"It probably won't be in my time as leader but it will come."